November 8, 2015
lisahannajones@aol.com
Foundations of Mindfulness Course
Jan. 6 – Feb. 2, 2016
Wednesdays 4:30-6:00 pm
.b Foundations © is an 8-week training for teachers, counselors, staff, and parents who wish to learn the foundations of mindfulness. Since being devised by Mindfulness in Schools Project in 2012, the curriculum has been trialed and developed and proven effective in over fifty schools worldwide.
 The course fulfills the prerequisite course required to take the .b and Paws .b teacher training and includes aspects of the .b and Paws b curricula.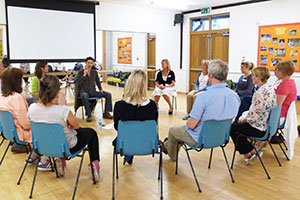 "The course has been an outstanding success. It has had an extremely positive effect upon our School community and I recommend it to others highly."–Kevin Knibbs, Headmaster, Hampton School
.b Foundations is based on the core mindfulness principles found within Mindfulness-based stress reduction (MBSR) and Mindfulness-based Cognitive Therapy (MBCT) courses. However it differs in that it has been designed with school staff in mind. The training  sessions (90 minutes) and recommended home practices are shorter than MBSR/MBCT and designed to be accessible, yet still effective, for busy educational staff.
By the end of the course, participants may find their mindfulness practice supports them to:
feel happier, calmer and more fulfilled
get on better with others, including students and colleagues
work more effectively by bringing increased awareness to the process
increase resilience in the face of stress and difficulties
Adults who develop a regular practice and feel inspired to go on to teach mindfulness to students could then attend a Teach .b or Teach Paws b  course.