December 30, 2015
lisahannajones@aol.com
Join us for a remedy to holiday
stress and tension. 
Foundations of
Mindfulness Course
Jan. 6 – Mar. 2, 2016
Self-development training for personal and professional life.  
Wednesdays 4:30-6:00 pm
You may have heard of mindfulness or have seen some of the recent media coverage. A great deal of this interest is the result of the large body of evidence-based research in neuroscience from Harvard, U of Mass, Oxford, and others regarding the wide reaching benefits of mindfulness relating to:
• resiliency to stress (work, school,relationships, sleep issues, family life)
• peak-performance academically and in elite sports
• depressive, ruminative and anxious thoughts
• job focus and concentration skills (even with ADHD)
• emotional intelligence/communication and leadership
• productivity
• well-being; happiness, calm, more fulfilled
When we practice mindfulness we're modelling one of the greatest life skills. Just ONE person practicing mindfulness can calm the workplace, the whole house, the whole classroom. Mindfulness calms without words.
As adults, if we aren't practicing mindfulness ourselves, we can't teach it to our children. This doesn't mean they have to see us meditating every day, but it does mean we need personal experience with the challenges and benefits of mindfulness, understanding it fully before we can teach it to others and helping create mindful leaders of the future.
This 8- week Mindfulness Course for adults begins Jan 6- on Wednesdays from 4:30- 6:00pm.
Developed by Oxford and Cambridge Universities, this evidence-based course has been proven effective worldwide. It is based on the core mindfulness principles found within Jon Kabot-Zinn's Mindfulness Bases Stress Reduction (MBSR) course and Mark Williams and John Teasdale's Mindfulness Based Cognitive Therapy (MBCT) courses, however the training sessions and home practices are shorter and designed to be accessible for busy professionals.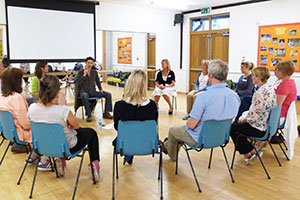 Adults who develop a regular practice and feel inspired to go on to teach mindfulness to students could then attend a Teach .b or Teach Paws b  course.
Early Bird Registration is $295 until Dec. 17, $325 after.  Deadline to Register is Jan 5.